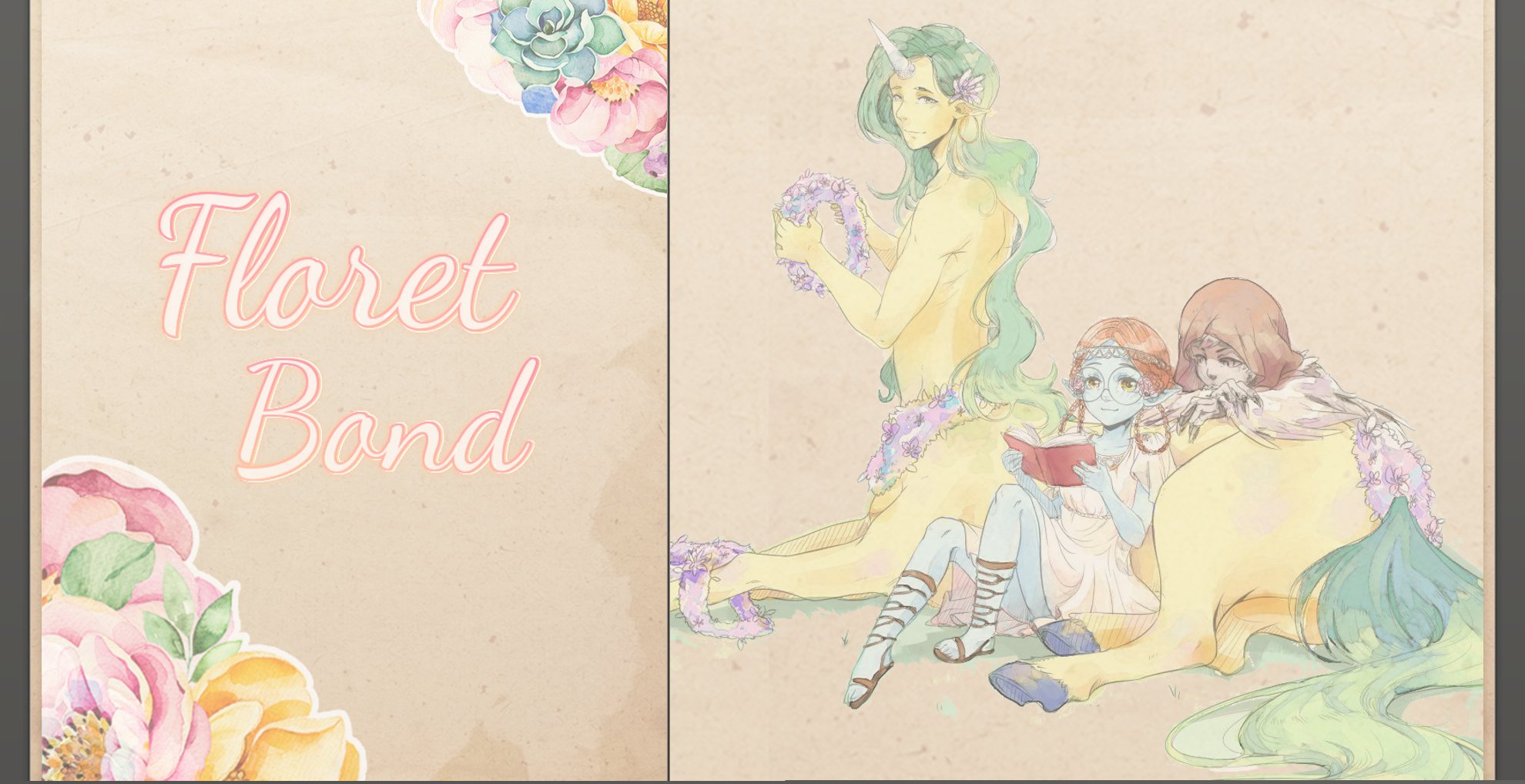 Floret Bond ✿
A downloadable game for Windows, macOS, and Linux
Floret Bond is a free fantasy otome Visual Novel/Crafting Sim that's super cute, lighthearted, and all about developing a polyamorous relationship between the female main character and the two male leads.

Full Version Features:

40,000 words (or so) of adorable events
Two male love interests and multiple varieties of poly romance to develop between them
Choices that help shape the personality of the MC
Simple and fun crafting gameplay elements
Partial voice acting
Right now only a demo is available. The demo is 8,000 words long and currently doesn't include the crafting gameplay elements or voice acting. Those will be added in a future update.

---
Story:
Peony lives a peaceful life dedicated to self-improvement in a small elven village. It is a simple town and there is little reason for an outsider to come by. If ever a stranger does come knocking there's usually only one reason for it, they need Peony's service. Within this world individuals with magical talent choose one area to specialize in. Peony has a rather unique expertise; she studies the art of neutralization. With the competition so limited and her prowess so well known, it has become normal for her to be approached by neighbors and outsiders alike stuck in shocking and absurd magical situations desperate for someone who can undo it all. No matter how many unusual jobs she's hired for, Peony reminds herself that something stranger can always occur. And yet today she'll be getting a commission that is truly worth remembering.

"Good evening, sir. Can I help you with something?"
"Of course! Look! Can't you see?"
"Oh my, you've got a little bird on your back."
"I know! Get this off! Please."
Gameplay:
Besides normal VN style choices, Floret Bond features a crafting system. You'll be able to manage your time, forage for items, create new things by combining ingredients together, trade for even more new items, and give gifts to the guys.

[Not yet added to the demo]

---
Thank you so much for checking this out! If you give it a go, we'd love to hear what your impressions are and which character(s) you like so far.

Also, feel free to visit the pages of our completed games~
-XOXO Droplets [Otome, Dating Sim, Comedy, Slice-Of-Life, Free/Commercial]
-A Foretold Affair [Various Romantic Pairings, Visual Novel, Adventure, Steampunk-Fantasy, Commercial]
-My Magical Divorce Bureau!! [Match-Making, Visual Novel, Ridiculous Comedy, Fantasy, Free]

| | |
| --- | --- |
| Status | In development |
| Platforms | Windows, macOS, Linux |
| Rating | |
| Author | GBPatch |
| Genre | Visual Novel, Interactive Fiction |
| Tags | Anime, Crafting, Cute, Dating Sim, Fantasy, Female Protagonist, Multiple Endings, Otome, Romance |