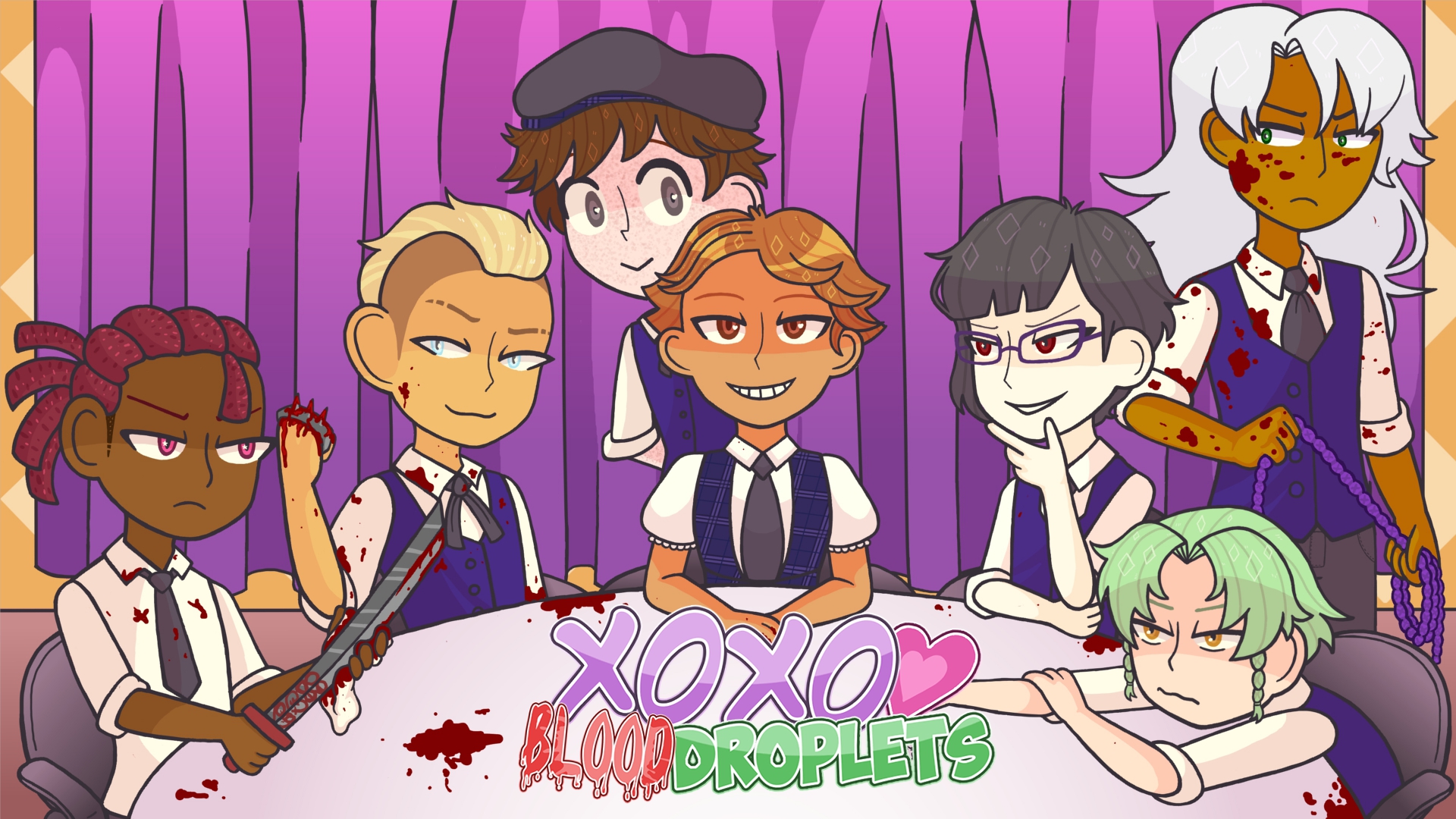 XOXO Blood Droplets
A downloadable game for Windows, macOS, and Linux
A collection of very short stories. XOXO Blood Droplets is an absurd, dark comedy, twisted romance Visual Novel about terrible things happening to terrible people. The fun comes not from avoiding the potential horrors, but by seeing just how many ways things can go wrong.

Rating: 18+ (swearing, violence, disturbing themes)



JB has been attending the fancy boarding school Saint Sara Belle for almost a year now. Along with six other students, she's forced to join an after-school group created for those that are deemed 'unfriendable'. JB is fine with that, especially because one of the awful people there is her special someone. Well maybe.
As much as JB is fixated on her chosen suitor at the start of the tale, the guy may not be worth the great deal of trouble it'll take to actually be with him. The amount of ridiculous, winding ways the story can unfold is frightening. All you can count on for sure is that it will be crazy.


♡ 3 Insane Suitors- Jeremy King, Bae Pyoun, and Everett Gray
♡ 3 Separate Storylines
♡ 50,000 words
♡ 42 Endings!- Some of them are actually okay. Most are not
♡ 18 CGs + a unique image to collect for every ending
♡ Determine your conclusion by making a variety of choices

There will be an optional DLC released in the future to make even more stories and "romantic" partners available.



JB (Nameable Protagonist): Dee Margret TurnerJeremy King: Calvin Joyal
Bae Pyoun: Griffin Puatu
Everett Gray: DJ Horn
Pran Taylor: P.M. Seymour
Nate Lawson: Belsheber Rusape
Shiloh Fields: Brendan Blaber
Nurse Lynn: Michael Kovach
Chand Gerges: Kevin Thelwell
Officer Gercy: Hannah Hellwig
Rex Eld: Phil Song
Waldo Wilson: Michael Abdelmessih
Sundae: Siddhartha Minhas (GodKnight) Cipher: Jacob Wilson
Alicia Rosales: Anairis Quinones
Missy Smith: Elsie Lovelock
*Voice acting will be added once the DLC is also completed. Some characters listed only appear in the upcoming DLC


---
XOBD is a spin-off to a lighthearted dating sim. The previously harmless romance guys are now exceedingly dangerous, but the protagonist is still quite fond of them and their insane ways. You do not have to play the OG XOXO Droplets for this game to make sense. Feel free to enjoy it as a stand alone story.
Thank you for checking this out ❤
And if you like horror Visual Novels feel free to check out the one we've already completed, Lake of Voices! It's free~


Download