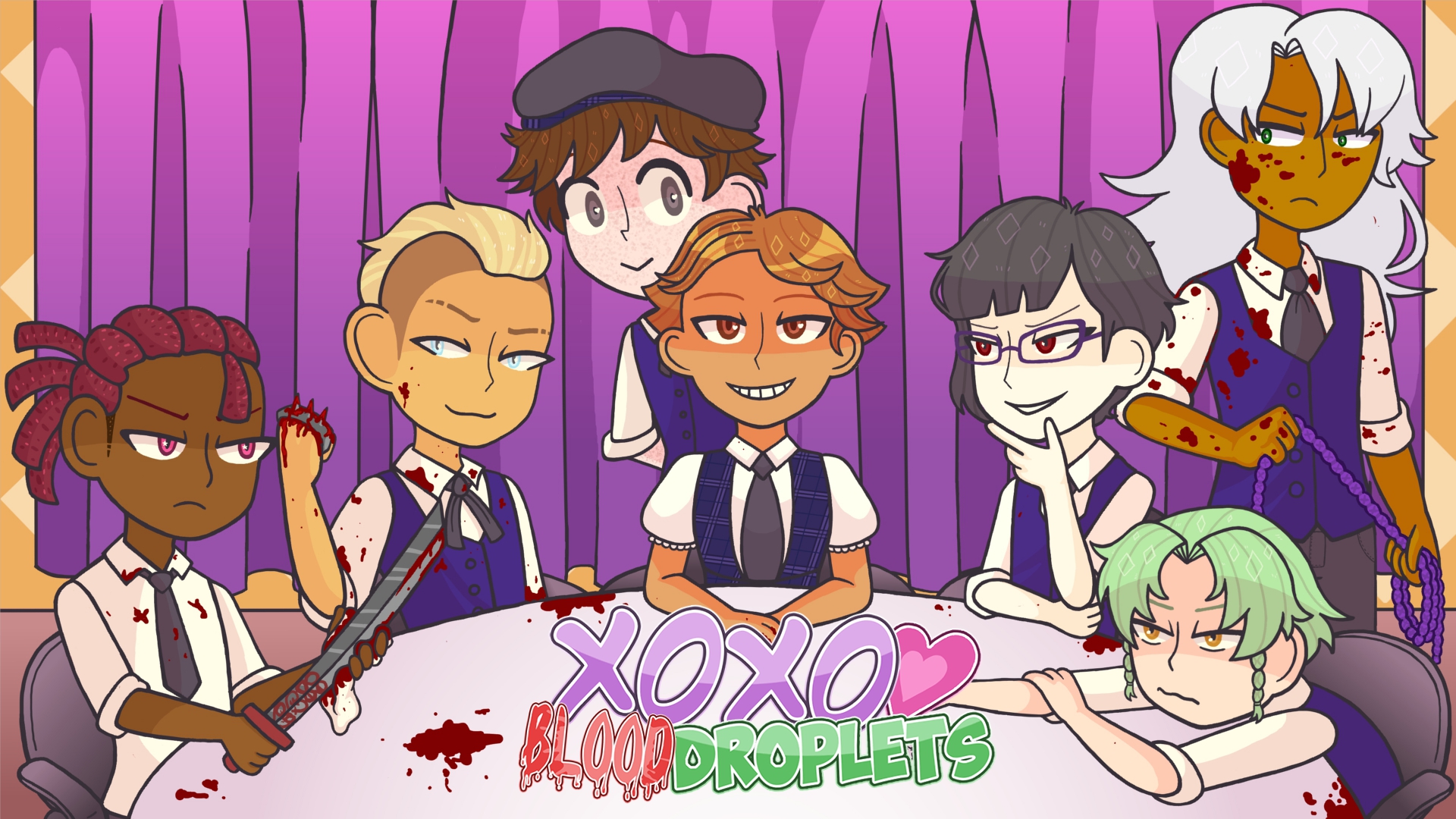 XOXO Blood Droplets
A downloadable game for Windows, macOS, and Linux
Love. Kill. Try not to die. Probably die anyway.

XOXO Blood Droplets is a cute, comedic, and creepy Visual Novel. The goal is to somehow romance a murderous boy without having the crazy dudes you didn't pick (or even the one you did) end your life. It doesn't tend to go well. In fact, usually it's pretty horrific.
XOBD is not suited for a younger audience.

The current build of the demo has 20,000 words with several 'to be continued' type conclusions and 13 Bad Endings. Note: saves from the older version of the demo aren't compatible with the newer version.

XOBD is a spin-off to a lighthearted dating sim. The previously harmless romance guys are now exceedingly dangerous, but the protagonist is still quite fond of them and their insane ways. You do not have to play the OG XOXO Droplets for this game to make sense. Feel free to enjoy it as a stand alone story.


Story:
JB has been attending the fancy boarding school Saint Sara Belle for almost a year now. Along with six others, she's forced to join an after-school group created for students that are deemed 'unfriendable'. JB is fine with that, especially 'cause one of the awful people there is her special someone. It doesn't matter that he has trouble getting along with people and is a murderer; he's still perfect to her!
Well maybe.
No matter how many sparkly hearts consume her vision at the beginning, anything can happen in this place. The amount of twisted, winding ways the story can unfold is frightening. All you can count on for sure is that it will be crazy.

Full Version Features:
6 Insane Suitors
18 Storylines
70 CG images
150 Endings!
Determine your conclusion by making many painful choices
Solve your problems with the MC's charisma or just through violence
Partial voice acting for every character by a talented cast
Cast List:
[The voice acting will be added in later builds of the demo]

Everett Gray: DJ Horn
Nate Lawson: Belsheber Rusape
Shiloh Fields: Brendan Blaber
Bae Pyoun: Griffin Puatu
Jeremy King: Calvin Joyal
Pran Taylor: P.M. Seymour
JB (Nameable Protagonist): Dee Margret Turner
Alicia Rosales: Anairis Quinones
Missy Smith: Elsie Lovelock
Nurse Lynn: Michael Kovach
Chand Gerges: Kevin Thelwell
Officer Gercy: Hannah Hellwig
Rex Eld: Phil Song
Waldo Wilson: Michael Abdelmessih


---
Thank you for checking this out ❤
And if you like horror Visual Novels feel free to check out the one we've already completed, Lake of Voices! It's free~

| | |
| --- | --- |
| Status | In development |
| Platforms | Windows, macOS, Linux |
| Rating | |
| Author | GBPatch |
| Genre | Visual Novel |
| Tags | Anime, Comedy, Cute, Female Protagonist, Horror, Multiple Endings, Otome, Romance, yandere |